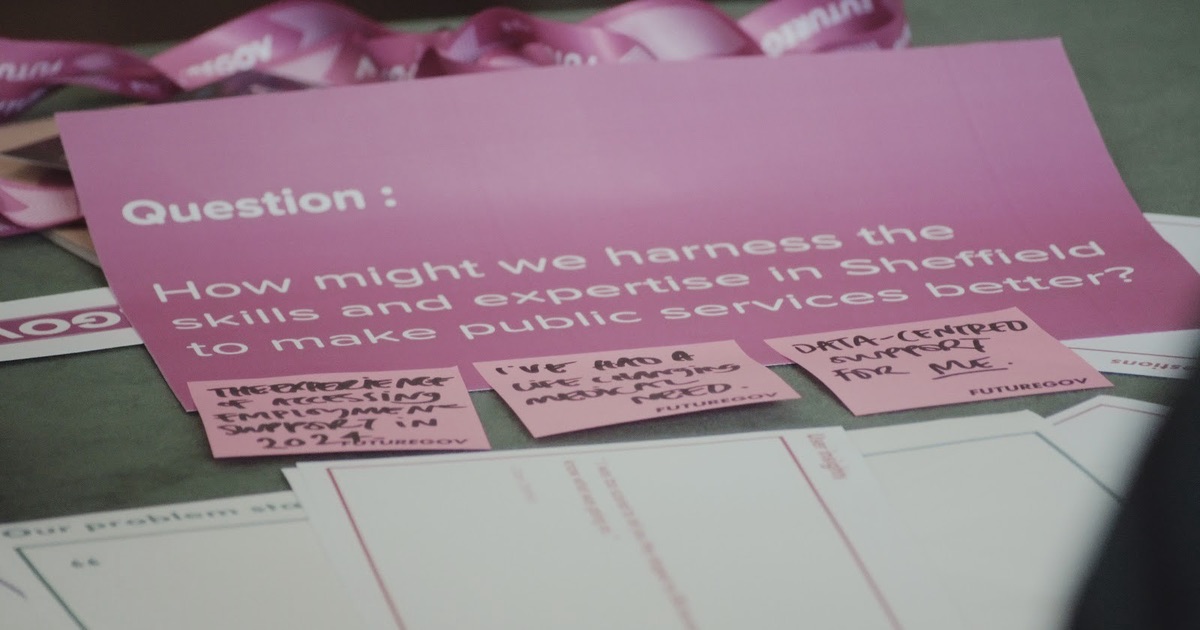 This is a guest post by David Ayre, Project Director at FutureGov, and was first published on Medium.
It takes a city to design public services. And it takes creativity to imagine what the future looks like without being constrained by the present. To do this requires a diverse range of people applying their perspective to the big issues. This is the ambition we had when teaming up with dotSHF to ask the question: How might we harness experience from across Sheffield to make public services better?
The power of different perspectives
Bringing together the police, DEFRA, DWP, Good Things Foundation, the Home Office, the NHS and the Universities to our GovernanceSHF launch event last week meant we had a wealth of expertise with different approaches and experience. We didn't just have experts — our open invitation meant that residents and the people who care about Sheffield could be part of the discussion.
To kick off, five experts from different sectors painted a picture of what public services in Sheffield are like today; pointing primarily to the scale and complexity of the challenges Sheffield faces as a city. Our expert panel leddiscussion ranging from disparate and hard to navigate welfare system, to outlining the two sides to Sheffield, what entrenched inequality means for enabling inclusive design and highlighting how digital inclusion isn't as simple as providing technology:
"These people need more than just digital skills. They also need advice, emotional support, interpretation and help with writing. Good service reform is about mirroring great online services with the right community context and support in which digital inclusion can happen."
We were playful with our solutions, focussing less on the problem and more on the art of the possible. It wasn't about finding the right answers, but about the action we can take to begin addressing the things we face as a city every day.
What we learnt
Need is understood through the prism of organisations, not people
This plays out in ways that seem small, but have a big impact. If we continue to think more about institutions and less about outcomes then we miss a trick. A partial view and understanding of need and opportunity doesn't work for services or residents. How might we introduce more hyperlocal policy and delivery? If we start with the person, and how they want to be supported, we can build a model of public service that puts them in control. A service model that goes to people, rather than the traditional method which expects people to find services, could be a start.
Power, data and responsibility remain too centralised
Data sharing is harder than it needs to be between organisations, and that is holding us back. How might we provide a joined up, frictionless form of support for residents? By focussing on public data sets, co-location and better-networked organisations across all sectors, can we make a difference? We could visualise data to tell stories or have community navigators who help people model new community focussed solutions. But is this enough, and what would it take to make it real?
We risk excluding large parts of the city from shaping the future
The lack of representation from less affluent parts of the city was a failing of the day. But this is just one example of the exclusion of these communities. We need to challenge the financial divide and make sure all residents have a hand and voice in shaping what their city could and should look like. How might we bring the voice of these residents into the conversation?
It's time for action
We need to translate this into action. We can't stand by and hope that someone else steps up to design the future that we want to see.
We have started to work through the challenges, and the potential solutions and initiatives designed to address these (at different levels and with different scopes). Next, we need to understand the resources that exist to help people address these challenges, whether that's people and organisations, or data sets, funding, or other innovation resources and platforms.
A meetup is in the offing. Come along, get involved and help design the future of Sheffield.
We'll make sure that information on the challenges, potential approaches, people and organisations involved and other resources will be published via the dotSHF platform.