Disputed is a Sheffield-based tech company with a mission to transform the global legal claims sector. Since it was founded by tech expert Steve Shinn in 2018, the company has created and launched two unique SaaS (Software as a Service) solutions for the legal sector. Steve has secured £1.5 million in investment, and the company's revenue has increased by 300% in the past year. In this Spotlight, we find out from Steve what sparked his interest in the legal claims sector, what being a remote-first company means to him and his growing team, and how he wants to contribute to Sheffield's digital tech ecosystem.
Steve Shinn was based in London and working as CTO for a digital agency when he had the idea for Disputed's first solution, CaseFunnel, in early 2018. He noticed a trend in mass claims and class action lawsuits, like the high profile VW emissions scandal, and cases against price-fixing in the football shirt industry. This prompted him to explore how tech was being used in this space. Steve says,
"I was outside of the legal industry but I thought this was an interesting area – consumer redress and how technology can play a part in these claims in the future. So, I did some early validation with London-based law firms that were starting to do more group litigation, to understand more about it and the tools they were using."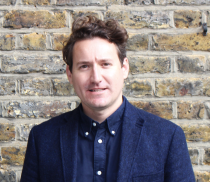 It became apparent to Steve that firms were relying on single tenancy systems, which are installed on their premises and operate primarily offline, with little to no integration with marketing systems. He continues,
"I realised we could build a modern SaaS product that could meet all their needs, and this would be relatively straightforward. I proved there was an opportunity there with global scale, and on the back of this I secured my first investment in early 2019."
At this point, Steve had sold his home in London and returned to his hometown of Sheffield, a move that would give him the 'financial space' he needed to pursue his start-up idea.
Digital transformation for the claims sector
CaseFunnel is a claims automation platform. It enables firms to validate claims, carry out checks (such as ID checks) and process legal documentation in a more efficient and streamlined way. Claimants using the platform – including thousands of drivers who are involved in a class action against Uber – do so via their mobile phones in a self-serve way. This reduces the need for paper-based, email and telephone communications, which can slow down the claims process.
Steve explains that CaseFunnel isn't designed to reduce team numbers or to save money, but rather to enable firms to take on more work. He says,
"The nature of large firms is that they want to do more work, because the more claims they do, the more fees they generate. This is about doing more with the same amount of people. It enables them to work very efficiently without the 'document debt' you can get when you have lots of people doing lots of different things manually.
"We've moved on to other areas as well so that CaseFunnel is a mechanism for handling correspondence – including email, SMS and web chat – and it deals with court filings and settlement payments. So, it's a turnkey solution for handling legal claims from end to end."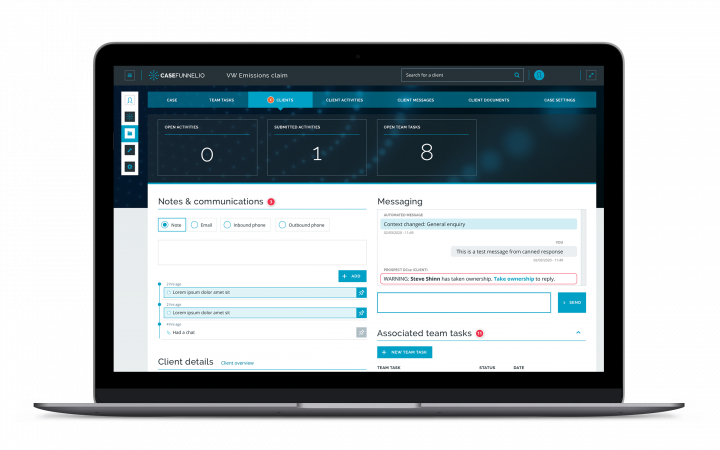 Steve's early research into the claims sector also helped him to understand more about Litigation Funding; how it works, and more importantly, how the system can be improved through tech.
Litigation Funders invest in large legal claims that they think will succeed in court, which mitigates risk for claimants and enables law firms to pursue more high-value cases.
Steve discovered that, much like the ways that claims were being checked and processed, Litigation Funding was dealt with over the phone or on email. He also observed that many lawyers aren't pitching requests to funders correctly and aren't giving the right information, which reduces the chances of a case securing funding. Steve explains,
"This doesn't give the lawyer a position of strength, neither does it give the claimant much choice. On this basis, we came up with FinLegal – a platform that does a few things; it has an online explainer and application process to help the lawyer position a request, providing standardised information; it then distributes the request to a whole market of funders. It also provides a dashboard for Managing Partners, so they can see how their lawyers are using Litigation Funding to increase fees."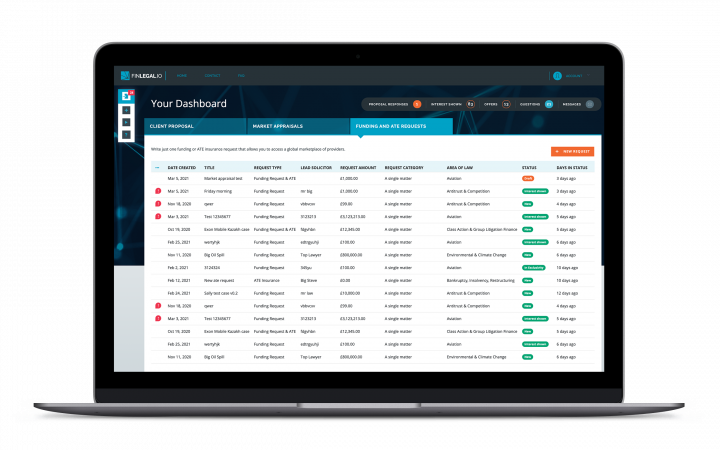 Driving better access to funding in Sheffield
Steve's insight on access to funding and investment – both in the claims market and for his own company – is something he hopes can be of benefit to the digital ecosystem in Sheffield. He'd like to see company founders receive better support when it comes to positioning their start-ups as investment opportunities. He says,
"Having spent a long time living and working in London, I know the investment market because I've navigated it. I've explored all investor opportunities.
"We need more people who are established, who know these funders and know how to raise funding because they've done it, and put that insight back into Sheffield. We can build a better ecosystem by doing this, one that is less fragmented and that really delivers for founders by offering good advice and roots. I want to contribute to that."
Steve is confident in Sheffield's overall potential to nurture and scale many more successful tech start-ups, particularly now that people and businesses are better equipped and more accustomed to remote working. He comments,
"There is no shortage of good ideas and good things to be done. So, why can't there be more founders in Sheffield, who get the right support and have access to the right funding? That's the real area to solve – positioning companies for investment and accessing it. The geography issue, that's not really a thing anymore. I've raised pretty much all of my investment over Zoom!"
As a 'remote-first' company, Steve and his team were used to working virtually before the pandemic hit. This enabled the company not just to weather the storm, but to thrive – increasing revenue by 300% and reaching £1.3m in annual revenue run rate, as well as making seven new hires throughout lockdown periods.
Reflecting on the start of the pandemic, Steve says,
"When COVID happened, like any other business, we knew this was going to be difficult. We had several options, either to slow down or speed up, but we had several early stage customers who still had the same work that they wanted to do. So, rather than trying to aggressively grow, we focused on those early customers, their needs, and making sure the product met those needs."
One of these early stage customers was the largest class action law firm in Australia, who had chosen to work with Disputed above a number of other tech firms. Steve continues,
"We focussed on our tech and our products; we scaled up, hiring 5 new people and growing our team to 12 by January 2021, which then grew to 19 in April, spread across the greater Sheffield area, Bradford, Derby and London."
These hires included a Commercial Director and senior developers. Providing a happy 'place' to work is a priority for Steve and he believes this comes down to giving responsibility and respect. Flexibility, regular 'work walks' for those living in the North, and working with modern, 'best-of-breed' technology also contribute to the consistent 4.5+ (out of 5) monthly happiness factor, as rated by the Disputed team. Steve comments,
"That's the stat that has the most emotional bearing on me. I really believe that the happier people are, the better they work. As a remote organisation you have to trust people to get on with things and have the company front of mind, and if they are happy at work, they'll do that."
The year ahead
The next 12 months look to be as exciting as the previous year for Disputed. Steve is hoping to complete a round of Series A investment towards the end of 2021 and he intends to get many more large law firms using CaseFunnel and FinLegal. Disputed is currently looking for two SaaS product experts to join the team in a sales capacity, and Steve has appointed a Product Manager and Head of Marketing this week.
In addition to the drive on marketing, sales and business development, Steve and his team are focussing on developing their technology to meet more of the industry's needs, exploring the great potential for digital transformation in litigation.
"We want to enable more legal claims to be funded, actioned, and settled quickly and efficiently. And we're building an increasing amount of tech to do this."
If you are interested in seeing how Disputed's SaaS solutions work, you can get a free demonstrator of CaseFunnel by contacting the team on: 0203 488 2707 or hello@disputed.io. FinLegal is available to lawyers at no cost, and you can find out more about it here.
Stay up to date with Disputed on Twitter and LinkedIn and by visiting the website: www.disputed.io.