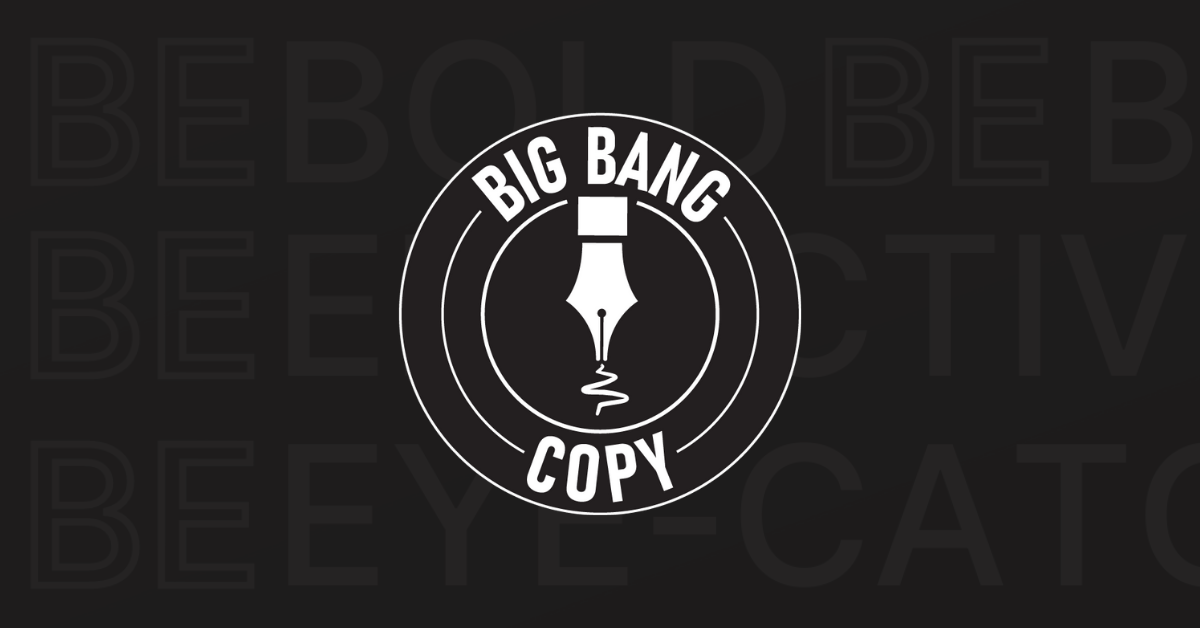 Since setting up last year in summer 2021 the copywriting agency has developed its own distinctive voice, taking on a range of clients across the globe. Founder Nick Harland tells us why good writing wins out over SEO algorithms and what he hopes to achieve with the company in the coming year. 
Starting with a bang
Moving back home to Sheffield after living and working in Barcelona for a few years, freelance copywriter Nick Harland decided to set up his own agency so that he could take on more ambitious and varied projects.
Having studied English Language at university then working as a magazine writer straight after graduating, it was perhaps inevitable that when he came to set up his own agency, it was one with good writing at the heart of its mission.
"As a writer it drives me crazy seeing everyone writing in the same way. I set Big Bang Copy up to try and prove that you can still write in your own unique way and get success."
He notes that a lot of people who work in copywriting have often come from a more SEO or digital marketing background, which means the style of the writing can take second place to trying to second guess what will catch the eye of Google algorithms.
"I feel like the writing you see online has become so uniform – everybody writes the same way, because they think that's what will get their content to the top of search engine results. It's very robotic and they're writing to rules and they've not really got their own personality. I'm a writer first and foremost, not an SEO specialist or digital marketing guru, so I think approaching it from that writing angle helps to make our writing stand out – and that helps our clients stand out."
No two days the same
Variety is a huge part of the copywriting appeal for Nick and Big Bang Copy has so far worked with a whole range of different clients in various industries and across the world – from Mauritius and Croatia to Ireland and Amsterdam.
"I wouldn't say we work with one type of client or specialise in one industry. Our clients so far have ranged from a luxury travel company and a mental health charity, to a children's book publishers, so there has been quite a mix! I think I'd drive myself crazy writing about the same topic every day."
Big Bang Copy is currently a 'one-man band', drawing on a pool of freelancers to help deliver well-rounded projects to clients. But growth is on Nick's mind for 2022 and he'd like to take on another employee as the next step in building his company.
The Sheffield digital network – and beyond
Originally from Sheffield, it made sense for Nick to return to his roots when he was coming back from Barcelona.
"I knew I wanted to set up an agency, and I knew I wanted it to be in the UK rather than abroad. It obviously helped my decision that I'm from here originally, but it was pretty clear from speaking to people that Sheffield is (again) a 'city on the move'. It felt like an exciting time to come back here and be part of that."
While he's pleased to see the digital scene thriving he's also keen to see more development, taking the lead from cities like Bristol that are a bit longer in the tooth when it comes to digital business networks.
"After graduating I lived in Bristol for five or six years, where there's been this kind of digital scene for over 10 years. I found it really useful starting out. There was a lot of collaboration between businesses in the industry – and organisations that facilitated that (like Sheffield Digital is doing here now)."
He'd also like to see more collaboration with other local cities and towns, to grow the digital offering in the future:
"In Bristol these networks and organisations also formed close links with businesses in Bath, which created this sort of digital/tech region, rather than just one city on its own. So it would be nice to see a bit more of that not just in Sheffield, but all of South Yorkshire – more collaboration between people in this industry."
Find out more about Big Bang Copy over at their website.