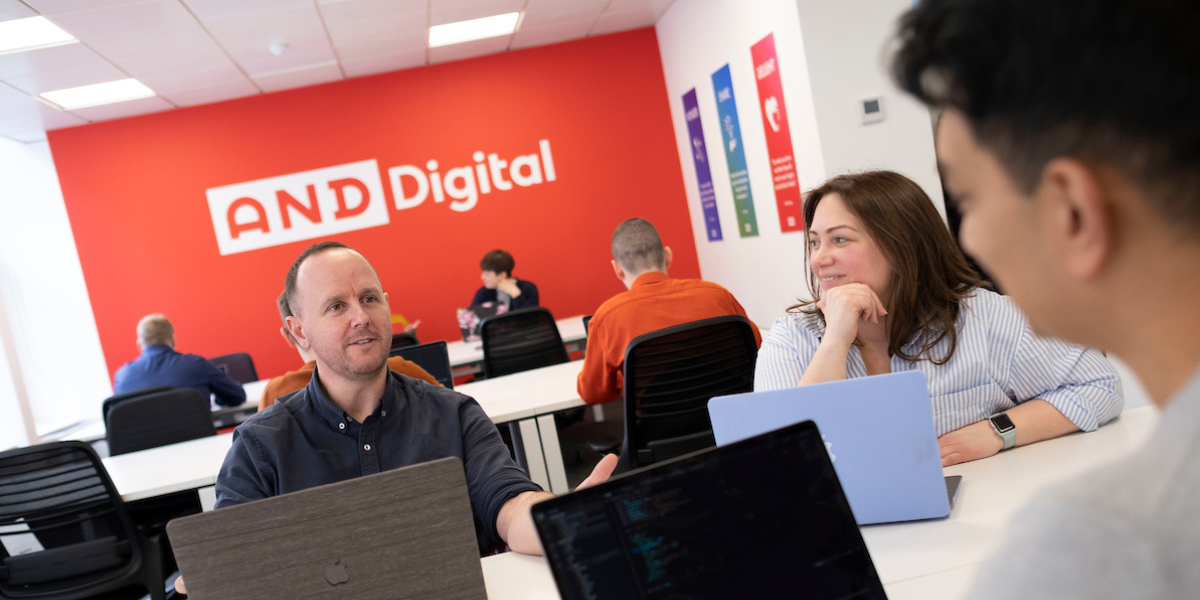 AND Digital provides everything from short and focused strategic planning to end-to-end digital transformation, to empower people with the knowledge they need to unlock the full potential of technology. The company was founded 8 years ago by Paramjit Uppal, who remains CEO and one of the AND 'Pioneers' Leadership team. We spoke to Hans Smans, Senior Marketing Manager at AND, to find out more about their expansion and becoming part of the Sheffield Digital Community.
What attracted you to Sheffield?
When we decide where to open a new AND Club House, the name for our local offices, we look at a combination of factors, talent, and opportunity. In Sheffield, we identified a significant pool of digital talent and were impressed by the skills pipeline provided by the education ecosystem and Universities. There are also some great businesses we look forward to working with and helping drive their digital ambitions.
What is it like to work at AND Digital?
We're ranked 2nd on Glassdoor Best Places to Work UK 2022. Company shares are built into employment contracts and people who work here are called 'ANDis' – it builds camaraderie and a sense of belonging. Well-being is one of our core responsibilities, which means we fully support the mental, physical and emotional wellness of all our people. We are passionate about working locally to create meaningful relationships with our colleagues, clients, and community, which is why we create local clubhouses which have their own unique identity, reflecting the community they serve. Our culture is the most important part of our business, we know that today people want to be part of businesses that are purpose-driven and values-led. Our people are our business.
How are Club House's structured?
Each Club House follows the same model, it will not grow beyond 90 people – because research showed us 100 people is the maximum number you can have where the leader still knows everyone who works there. People work in squads of 12 and are encouraged to continuously develop their skills – every ANDi can take 13 learning development days every year. We encourage each Club House to form their own identity and, as a team grows, they choose their own club name. For example, in Leeds we have 'Club Adams' named after the boxer Nicola Adams. The teams also choose which local charity to support and how to use their volunteering days. In the past, we have supported charities by building apps and sharing our expertise. We have 19 clubs across the UK and The Netherlands. Each club will only serve a limited number of clients to ensure we maintain our quality of service.
What are the opportunities in Sheffield?
We start with a small team in a new area and then grow over a year or so, so we will be recruiting for a variety of roles in the new year and moving into new premises (location to be confirmed). People who are interested can visit our website and find out more about our services here and our dedicated Sheffield recruitment pages here.
Why did you join Sheffield Digital?
One of the driving principles of our business is to help close the digital skills gap. We want to share our knowledge, expertise, and mission to empower people to benefit from technology. Our business model is based on investing in local communities and we recognise the importance of giving back, to help whole areas flourish. We are looking forward to attending, participating in, and speaking at events, and getting involved in the local scene.