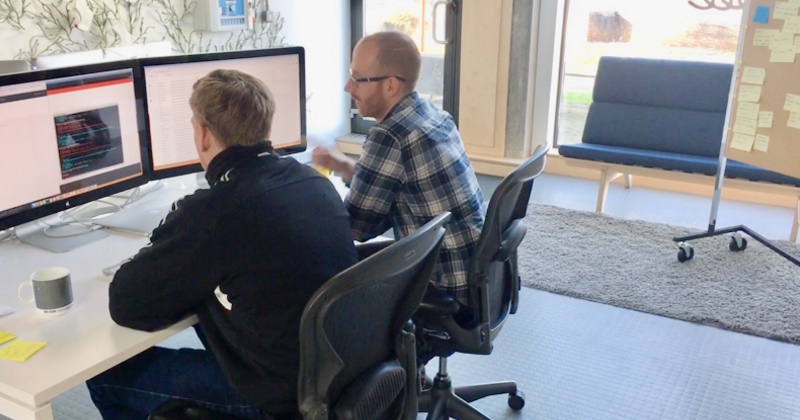 Code4000 is Europe's first prison coding workshop and is currently running a pilot with 32 prisoners at HMP Humber. The training is intense for the prisoners: nine-to-five, every day.
Five years ago, Yoomee started a small in-house experiment to teach young offenders to code, but back then they didn't have the resources to apply the lessons learned. Now they are working with Code4000 who teach prisoners how to code so they can find tech jobs when they are released.
"There's a huge demand for coders, a huge shortfall in the UK and the rest of Europe," said Michael Taylor, CEO of Code4000. "And prisoners have plenty of time, which is one thing you really need to learn how to code! They've taken to it with great speed. Some of our coders don't even have level one maths or English, but they're building websites within the first six to eight weeks."
This year, Yoomee has been helping to pilot work placements for prisoners who are allowed travel on day-release to the Yoomee office whilst they serve their sentence in an open prison. They've recently taken on Josh, a prisoner, to work as a chatbot developer at the Yoomee office at Park Hill, Sheffield.
Josh is currently serving at HMP Hatfield, an open prison that allows him to be released on a temporary license (ROTL). This means he can spend the day working at Yoomee rather than in the prison.
How does Code4000 work in prison?
The first phase is a training phase that teaches prisoners the basics of HTML, CSS and Javascript. They then move on to more advanced concepts like Git, TDD, MVC, databases and full stack development using Ruby on Rails.
Prisoners aren't allowed direct access to the internet, so they start with exercises downloaded from Code.org before building simple starter games, like Pong, Breakout and Asteroids. Once they're ready, the students will enter the second stage: putting their skills to work on real projects for external clients.
The third stage will involve temporary day releases for prisoners so they can go to work with clients independently. The fourth and final step will be to help them find full-time employment as developers in time for their release. And it's these last two stages that Yoomee has been helping with.
Introducing Josh
Josh learnt Ruby on Rails at the Code4000 workshop in HMP Humber and his skills are already impressive. He's now working on real-world projects at Yoomee, including a software upgrade for Off-Axis and an AI-powered chatbot for a local mental health charity, Sheffield Flourish.
Michael Taylor: "Coding is about problem-solving. Being a prisoner requires ingenious thinking to make the most of limited resources. Prisoners are adept at problem-solving and bring that into the coding world."
The time needed to support Josh has decreased significantly since he started in the Yoomee office, and he's now much more able to support himself using online resources such as Stack Overflow.
Yoomee is also very grateful for local tech volunteers, such as freelance developer Ryan Brooks. Volunteers like Ryan are essential to help to speed up the onboarding process by committing regular time each week – mentoring and providing advice and insights on career development.
Next steps
The plan is to significantly expand the programme in Sheffield by taking on more ex-offenders at Yoomee and hiring a full-time manager to look after these new coders on a day-to-day basis. If that sounds like a role for you, please check out the job advert on Sheffield Digital's job board.
Yoomee is also looking for volunteers to help mentor the new coders. So, if you also believe that an understanding of code unlocks a life of opportunities and has the power to transform lives, please do get in touch with Yoomee.
In the meantime, you can find out more by watching Michael's talk at TEDx Stockholm last year (embedded below).
---
About Code400
Inspired by The Last Mile, an established prison coding programme that runs in several prisons in California, the plan is that by teaching prisoners coding skills, their chances of employment post-release will increase, and local companies will have a better supply of the skills they so desperately need.
This is a win-win all around hopefully, as by not only turning around the lives of individuals you hopefully improve the communities that the prisoners will eventually return to. Code 4000 is not only the first initiative of its kind in the UK, but also in Europe and has been founded and facilitated by Duane Jackson founder of KashFlow Accounting Software.
About Yoomee
Yoomee is a social enterprise with a mission to help non-profits understand and harness the latest developments in artificial intelligence. They are a company member of Sheffield Digital.