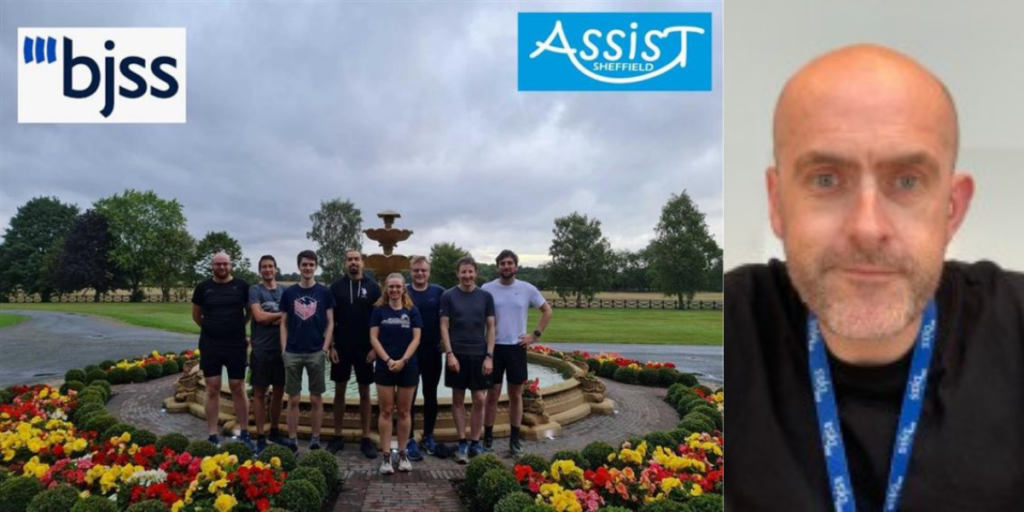 BJSS is a technology consultancy business passionate about delivery. Born and built in Yorkshire but now with offices all over the globe, BJSS is still owned by its original co-founders, who remain active in the business.
Over the pandemic, BJSS doubled in size and currently employs over 2,500 people across 26 offices in the UK, US, Europe and Australia. BJSS was one of the 2022 Sheffield Digital Festival sponsors and we wanted to find out more about how the business gives back to the community and why it's important to BJSS' culture. We spoke to Andrew Long, Head of Delivery at the Sheffield and Lincoln offices, to find out more.
Andrew told us that each local office has the autonomy to choose how to support its area and in Sheffield BJSS currently supports Sheffield Women in Tech and the Sheffield Digital Festival. The Sheffield team are also supporting the return of Agile Sheffield at an event on 6th October in their office as part of their commitment to support the re-emergence of meet ups post-Covid. You can book your place here.
Andrew told us authenticity is key when it comes to community engagement and support, saying, "It is important to me that we exist alongside our local community and not grow into a massive, faceless organisation that just comes in and does 'work'. I want us to be doing the right things and sponsoring and supporting initiatives that are important to us and the community."
The localised approach BJSS has to its offices means that, although it is a global company, it stays close to the communities it exists in. Andrew told us, "We consciously look at the areas we work in and think about how we can create opportunities or add value to the local area."
Each year, employees get to choose which charity they would like to support in their local area. This year they have chosen Assist Sheffield, a local charity supporting refugees and asylum seekers. Andrew told us, "We give everyone the opportunity to talk about charities that are close to them. And we collectively choose and fundraise throughout the year. Our local Social Responsibility group organises a variety of events to raise funds for local causes which are very popular with our team. Last week we had a bake sale and I've never seen so much cake in my life!"
The opportunity to feel connected to local communities is an important aspect of what it means to work at BJSS and the organisational culture it is creating. Andrew told us that this is important from his perspective because "we are trying to make a space for people who want the option to come and work in an office, and we want that experience to be as nice as possible."
As well as financial support, Andrew is passionate about engaging with the local skills ecosystem and nurturing a pipeline of tech talent. BJSS employees in Sheffield are engaged with the UTC, universities and local schools to share their expertise. Andrew said, "We have a role to play in creating opportunities for people who have never considered a career in tech to understand what it's really like."
BJSS' approach to recruitment reflects the importance of developing skills useful for a tech career instead of focusing on specific roles or jobs. Andrew said, "BJSS hires people based on skills and an appetite to grow and learn. There are no rigid pathways at BJSS; we understand that people's careers may take them on different journeys. For example, my career in tech was not a given as most of my immediate family are or were teachers. I was fortunate when I was growing up for the prospects I had, but I know people who didn't have the same opportunities. You can see which path you could have gone down and how your life could have been different."
Inclusion in tech is very important to Andrew and his views on its importance are informed by his own experiences as a parent. "I don't want my daughter to be excluded from anything that she wants to do. So I look at myself and think, what am I doing for the people that work for me? Am I giving them the opportunity to do everything that they want to do? And it always goes back to, would my daughter be able to do this?"
Andrew believes, "It is our responsibility as people who lead organisations in Sheffield to try and get everybody a bit closer together, to present the whole rather than all the little pieces. There is a lot going on to tell people about the opportunities in tech but it's not always well connected. By working together, we can make it more compelling for other businesses to come to Sheffield or for people to choose Sheffield as a place to work."
BJSS is always working to create an inclusive working culture where everyone feels welcome. It has several ways people can socialise, including groups for reading, climbing, running, food, music, hiking and photography, most of which are not based on traditional, alcohol-orientated activities – although there is a popular pub club!
For Andrew, the days of one-size-fits-all management and culture are over. "In any business now you have to have a more holistic view and, when salaries are at similar levels across companies, think, 'What's the differentiator that is going to allow everyone to be their best selves?' We're creating a culture where people can talk about the things they are interested in, and we see the benefits far outside of what we do. We're not just a technology consultancy – there is much more to us than that."