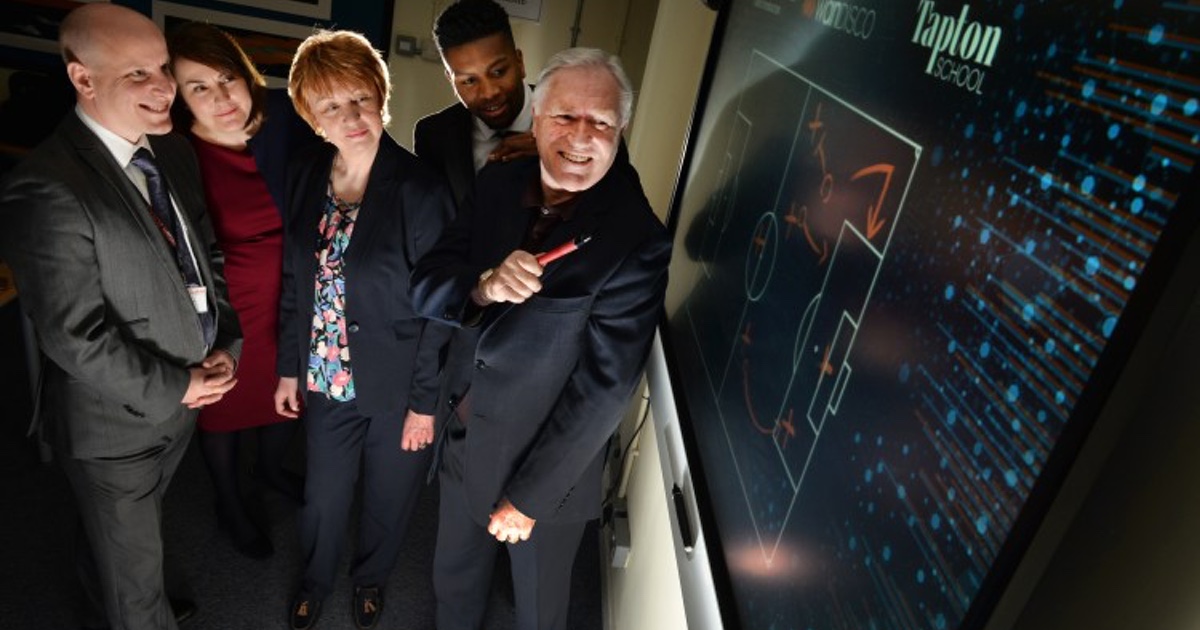 In January 2018, we interviewed CEO of WANdisco, David Richards on the Sheffield Digital Podcast. In that episode, he talked about his plans to change the way children are taught computer skills in schools. Six months later and the first course begins soon at Tapton School in Sheffield.
A new way to teach computer science
The David and Jane Richards Family Foundation is a registered UK charity that aims to inspire young people to fulfil their potential through hands-on programmes and targeted assistance. Mr and Mrs Richards believe the current emphasis on coding in the classroom is misguided, as programming is at risk of automation.
Tapton School in Sheffield is the first to work with the Foundation. Earlier this month, pupils and parents got to see a preview a new course for Year 9 students that aims to transform the way computer science is taught in classrooms.
The course focuses on data science and has been designed to give young people the ability to understand and solve real world problems. It starts in September and around fifty50 Year 8 pupils have signed up, which issounds like a fantastic start.
Designing the course
The Foundation has recruited Professor Chris Brady, one of the UK's best-known business school academics, who has worked in conjunction with Tapton School to design the course. Prof Brady and his team at the University of Salford arewere the creatorsbehind of the SAM super computer, which looks at football player performance to predict Premier League results.
The first half of the new course teaches pupils how to use data to forecast outcomes. In the second half, pupils will apply their new skills to scientific challenges in fields as wide-ranging as space exploration, next generation antibiotics and gene sequencing.
Prof Brady said: "We will ask children what they want to work on, using subjects like football, fashion and film. They will choose what fascinates them. We will ask them what they want to know. They will start questioning. We want them involved in the design process and answering their own questions."
'A step-change for computing in school'
The new course will be embedded in the school curriculum, rather than run as extra-curricular activity and will not offer a qualification. Instead, teachers will put emphasis on engagement and enjoyment.
David Dennis, chief executive of the Tapton School Academy Trust, said: "This is a step change for computing in school. There is insufficient innovation in the subject as currently taught. Computer science in the national curriculum*, with its focus on programming, is not fit for purpose.
"We want to attract the pupils who might not be interested the subject because of the amount of coding involved. Coding is easier to assess than creativity, but that does not mean it is the right thing to do.
"We want young people to experience how computing is changing lives. We want to encourage creativity, innovation and entrepreneurship in young people now and how it will evolve in the future."
Skills for the future
David Richards, who went to Tapton School in the 1980s, said: "We are very excited that so many young people have chosen to sign up for the data science course and cannot wait to see what amazing ideas they come up with.
"We believe that the advancement of computing education, starting at Tapton School, will help young people to be creative, innovative and entrepreneurial, just the sort of skills we will need in the future.
"We need to engage schoolchildren with computing in the same way that British astronaut Tim Peake has been doing with science through the European space education programme."
Listen to the podcast
We've put this post together based on a press release from the Foundation. We heartily recommend you go back in time to listen to David Richards talk about his plans for the Foundation's work in episode 8 of the Sheffield Digital Podcast. The interview provides more context and detail around what's in store and the problem the Foundation is trying to solve.
---
About the Foundation
The David and Jane Richards Family Foundation was set up with the aim of educating, empowering and improving the lives of children. Its trustees are Professor Chris Brady, director of the Centre for Sports Business at the University of Salford, Lord Kerslake, the former head of the civil service, and Herb Kim, founder and CEO of Thing Digital. David and Jane Richards have donated £1.1m to fund the Foundation's work.
Image credit: Sheffield Star