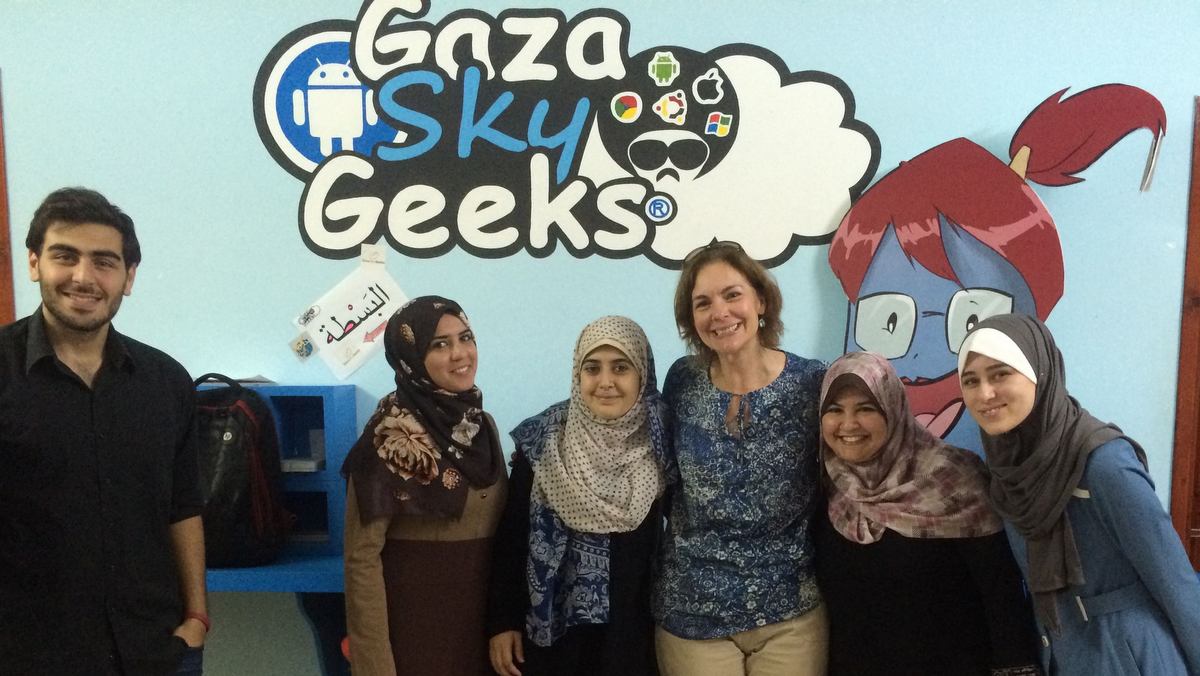 We are proud and pleased to share that we are two of only seven mentors from all over the world to have the privilege of being a part of the Gaza Sky Geeks pre-incubator bootcamp in just a few weeks' time. The fact that both of us are women from the North of England from the same fantastic entrepreneurial tech community speak volumes about this great network we work in.
We will be part of a group of local and international mentors leading sessions on topics such as marketing, problem/product/market fit, leadership and management, business models, customer development, building teams, and much more. We will spend the first week of September with hopeful teams striving to get a place on the incubator.
As integral members of the tech community in the North of England, we see tech as an enabler to increase the reach and impact of businesses and social ventures, and are passionate about the potential of entrepreneurship to effect change in the world, especially in disadvantaged communities.
Gaza Sky Geeks was founded by Google for Entrepreneurs and other partners in 2011 to create a support programme for the many highly-educated and tech-skilled young people in Gaza who were facing unemployment of around 70%.
Gaza Sky Geeks knew that with support to reach out to global markets, internet-based companies in Gaza could overcome the border and travel restrictions and the decade long blockade to create viable businesses and jobs. With intermittent electricity supplies, difficult access to essential equipment and materials, and little exposure to corporate cultures, startups in Gaza would struggle to become competitive, much less grow and provide employment for other skilled young people.
But Gaza Sky Geeks is changing all that by bringing international mentors in to offer workshops, mentoring, classroom learning, and real-life experience to these incredible future business leaders. As mentors, we have the rare privilege of being one of only about 20 people who get permission to enter Gaza for this purpose each year. We must fund ourselves, and due to restrictions and uncertainties, travel and accommodation are particularly expensive. We must also make best use of our opportunity to take vital hardware, tools and gadgets in during one of the few chances to get anything at all across this highly-restricted border.
With your help, we can make the biggest impact possible during our visit. If you would like to be a part of ensuring that gifted young people can create their own businesses and as well as jobs and opportunities for others, there are three key ways that you can help:
Support us through our fundraising page. Mentors are completely self-funded. Having to have flexible travel arrangements and due to restrictions, costs for our accommodation and other expenses in Gaza are higher than in normal circumstances. Every pound matters and is gratefully received.
Please share our posts and tweets. We are posting on Facebook, Twitter (@LauraIHBennett @startupliz) and on the Sheffield Digital Slack #random channel. This has got to be the most useful function of social media… the ability to reach far and wide beyond one's own network!
Donate your unused or unwanted items. Due to restrictions on trade, travel, and imports, the entrepreneurs in Gaza rely on visitors to bring them much-needed equipment. Specifically, the tech startups in Gaza need:
Battery packs, solar chargers, USB sticks
Hardware (e.g., smartphones/tablets, arduino kits, raspberry pi)
Books about tech / startups / business
Also, any company and city branded items are always very well received. Have you got a stockpile of stickers or notebooks or pens with your logo on it? Any branded tee-shirts? Could you share the Sheffield love with some tourist swag? All is very welcome!
If you do have anything to donate, please get in touch with Elizabeth or Laura and we will coordinate to collect it. If you're in Sheffield, we can arrange to collect anything you might have, or a place to drop it off. If you're in Manchester, you can drop stuff off at the Tech North office (RISE Manchester, 231 Deansgate).
Thank you all in advance for any form of support you can offer. We have a great, well-resourced community here in the North, and we want a community like Gaza, that faces unimaginable challenges every day, to get the best chance for success for their startups too.