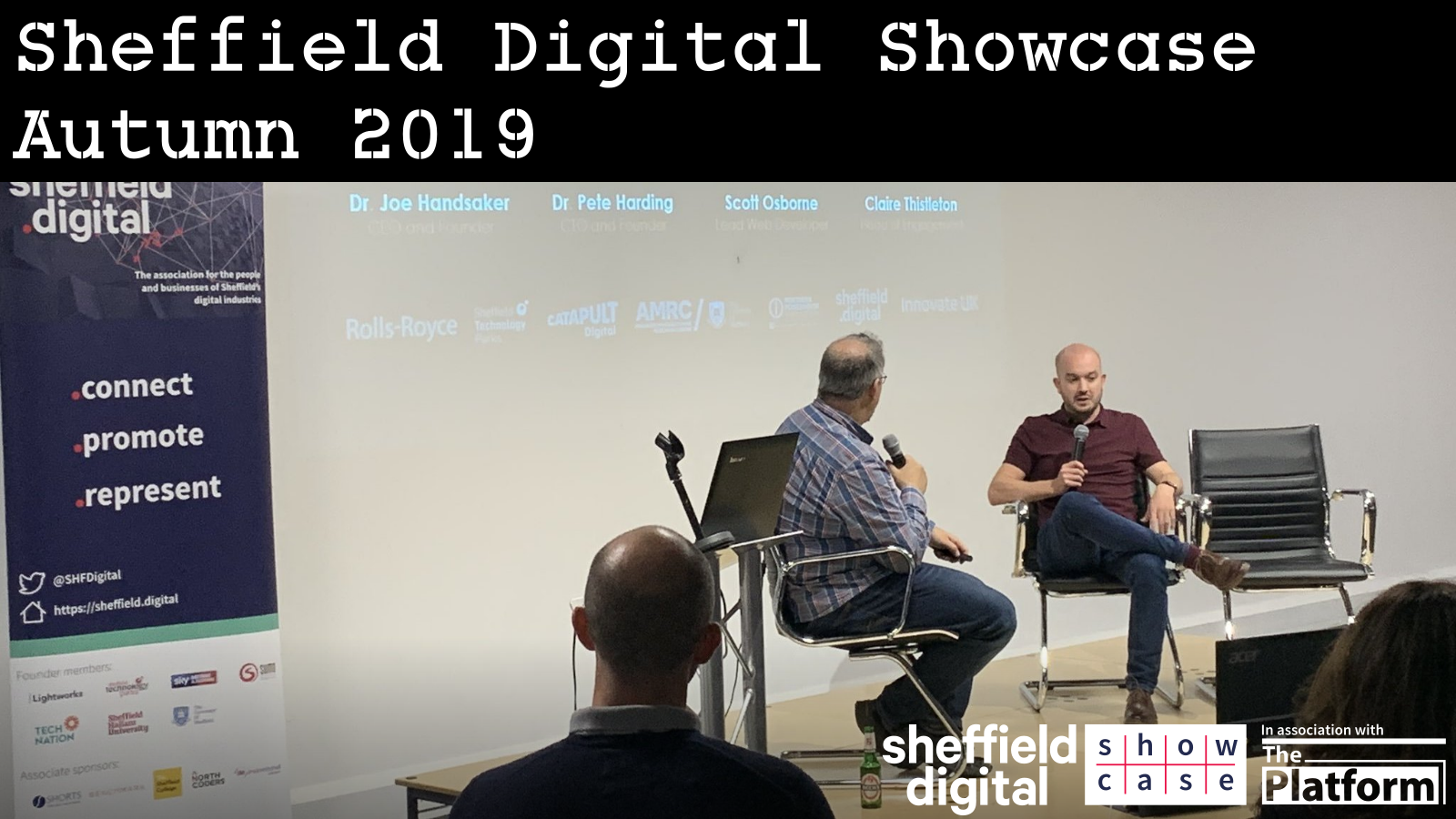 The Sheffield Digital Autumn Showcase was held on Thursday 26th September 2019 at The Workstation, with talks showcasing five impressive digital projects recently developed here in the city.
The purpose of the Showcase events is to shine a light on the things that are produced in Sheffield's digital tech industry across the whole range of markets and application areas. It's a regular opportunity to get together to celebrate the people and teams who are doing great work. People who attend learn about what our tech industry is all about, both within Sheffield and further afield.
Once again it was great to welcome so many attendees, with many arriving at 5:30pm for drinks and networking before the talks started. It was really nice to see the buzz in the room while things were warming up. The Workstation is a brilliant host for the Showcase events – thanks to them for providing The Creative Lounge, along with plenty of food and refreshments. We were especially pleased to see more young people getting involved and learning about the inspiring projects presented at the Showcase. This was in part because one of our guests, Dom Barter, recently completed his A-levels at the UTC Sheffield Olympic Legacy Park and was well supported by other computing students from the school. We really hope to see that happening more so if you can help us spread the word to universities, colleges and other institutions then please do send us your suggestions; the Showcases are a great way for young people to discover the local tech industry and talk to the people who work in it.
The success of the events is entirely down to the guests, the tremendous work they do and their willingness to come and talk to us about it, for which we are hugely grateful. The format encourages guests to share the whys and hows of their work, so that the audience can really understand the purpose and meaning. Please do get in touch if you would like to present your digital project, product, service or experience at a future showcase event, meanwhile enjoy the Autumn Showcase talks:
Joe Handsaker, Founder and CEO of Elements Technology
Joe introduces the Elements Platform which provides a simple plug-and-play system for automating manufacturing processes. Find out where the idea came from, how it's evolving, and the impact it's making on the shop-floor and customer service.
"The amount of support we get is brilliant and we're really embracing it. Sheffield is the best place for us to be."
Paul Hilton, Technical Director at Can Studios
Paul explains how an overhaul of their technology stack has made their e-learning platform accessible even to small companies, entrepreneurs and start-ups – in contrast to most learning management systems.
Tune in to hear about how the company started out twenty years ago, the diversity of the digital learning solutions they have produced, and find out how a rebuild of their Training Post platform has stripped everything back to make it more user-friendly and affordable.
Laura Smith, CEO of Slanted Theory
Laura demonstrates how their ALAIRA platform delivers engaging interactive experiences in virtual and augmented reality that enable non-specialists to explore their data like never before.
"When people think of data visualisation they think of it as an end product just to present information, whereas what we're trying to do is create a platform that is a collaborative, and analytic, and visualisation, all in one. So basically 3D visualisations are actually the tools you use to analyse the data yourself."
Dom Barter, Founder of Hexos
Dom introduces his new digital service which visualises public transport data across the whole of the UK to generate accurate travel time "heatmaps" for any location. He explains the problems with public transport data, the impact that data visualisation can make towards business decisions, and how he made the heatmaps.
"UTC [the University Technical College] really is the birthplace of things like this. It's such a great environment that promotes people actually going and creating these things…Because UTC are pulling employers in you're getting real-life experiences and projects."
Ibrahim Sheikh and John Cusack from Qubic Aerial Systems
Ibs and John explain how technologies like volumetric scanning, LIDAR, drones and high performance computing are transforming the surveying industry.
"We're building surveyors, we specialise in major loss insurance claims, things like fire, flood and explosions… but effectively we're gathering data, turning it into digital data and then it's how we use that data to add value to our clients.""
The event was once again held in association with The Platform – the creative and digital industry business networking series produced by Showroom/Workstation, Sheffield Technology Parks and Business Sheffield.
Until next time…
We're already looking forward to the next one which will be a Christmas Special on Thursday 12th December – we'll announce the guests over the coming weeks, but meanwhile save the date and make sure you subscribe to our newsletter so you don't miss it!