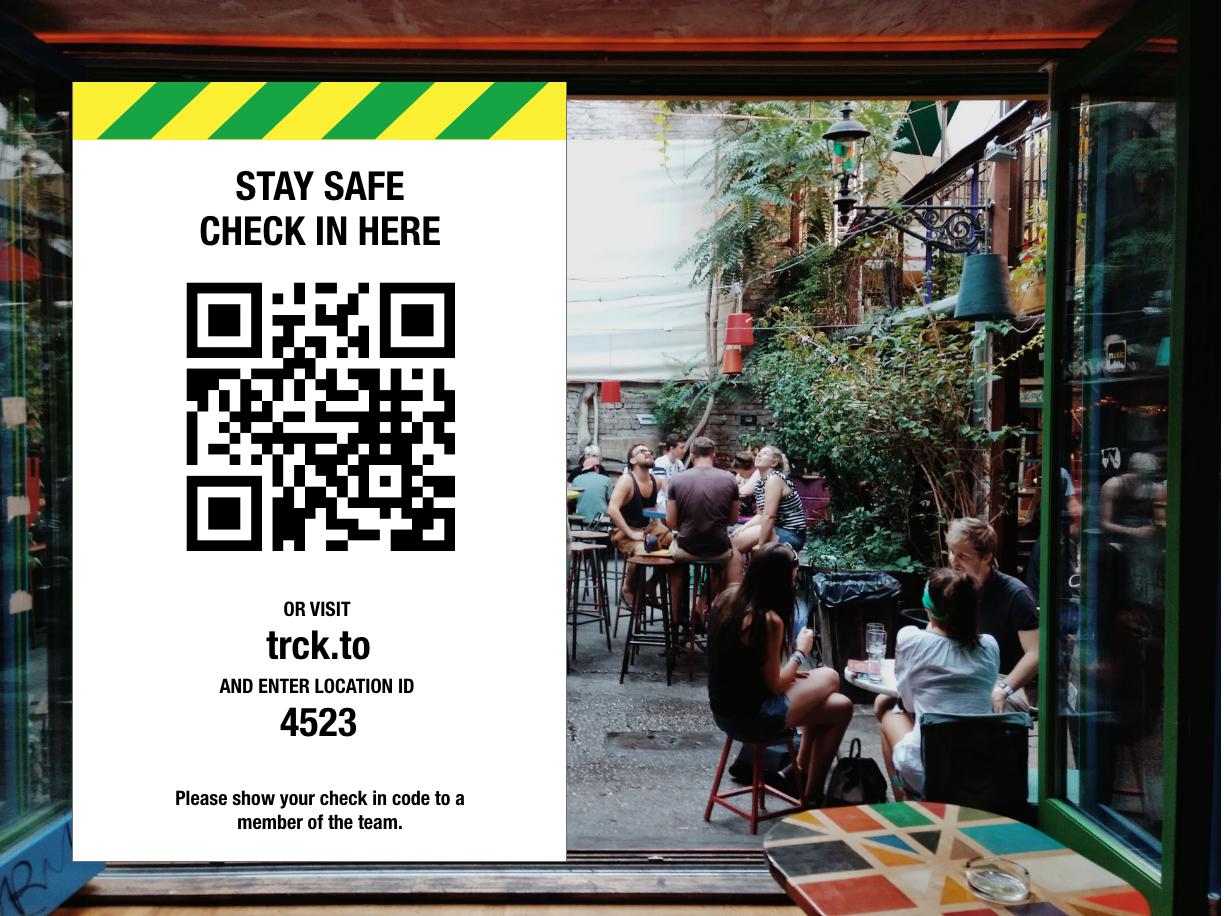 From developing wearable tech to help people stay socially distanced in the workplace, to moving an entire market online so that struggling traders can sell their produce again – the digital industries have shown exceptional levels of creativity and innovation in the face of COVID-19. In this post, we look at a range of the solutions that have been developed in the Sheffield City Region to help communities, businesses and entire industries to survive the pandemic and the new normal we will live with for the foreseeable future.
Airship backs hospitality industry with new tech and financial support
Airship developed a platform to help the hospitality sector open its doors after lockdown, whilst fulfilling the NHS Track & Trace requirements. Trck.to provides an onsite data registration system, capturing the details required by the NHS if a positive case of COVID-19 is identified at the venue.
Whilst online and telephone booking systems enable many venues to collect data, some bars and restaurants that accept 'walk-in' customers would not have a solution in place to capture the necessary data. Recognising this, Airship created Trck.to to be deployed quickly and easily.
Each venue has its own unique QR code which customers scan to access a data capture form. On entering their data, the customer is sent a check-in code by SMS which they have to show to a member of staff when ordering. Data is kept for the required 21 days and can easily be exported as a Trace report if requested by the authorities.
Trck.to has so far been used at more than 8,500 locations throughout the UK and over 5,440,000 check-ins have been made through the platform. You can find out more about Trck.to here.
Airship has more recently launched a £10k grant scheme to help hospitality businesses by providing access to a network of industry experts and to provide savings of up to 50% on monthly licences to its platforms. Dan Brookman, CEO of Airship, explained: "We have pulled together a bunch of hospitality creative agencies and freelancers to offer our customers specialist expertise and knowledge whilst they pivot and make the crucial changes needed to ensure their businesses survive." Find out more.
Razor helps develop footfall tracker to support social distancing
Working with Digital Exchange Ltd, Razor developed a system to help businesses of all sizes control the flow of people on their premises.
Conveyr shows customers whether they can or cannot enter using simple red or green images and instructions on screens placed by entry points. These are controlled by members of staff within the space, who can slow down or stop the flow of people when the space reaches capacity.
Conveyr Occupancy has now been launched which features automatic occupancy counting. Jamie Hinton, CEO of Razor, said:
"For us, this is a perfect example of working in collaboration, using innovation and technology to help everyone move forward."
You can find out more about Conveyr and Conveyr Occupancy here.
Tribepad teams up with VAS to manage volunteering effort
Tribepad created a customised instance of their recruitment software for Voluntary Action Sheffield (VAS), the organisation at the centre of the mass COVID-19 volunteering effort in our city.
The software is accessed through the VAS website and it enables volunteers to register and upload any necessary documents (such as a driver's license or CAB check). Charities looking for help can easily search and match available volunteers to the roles they need to fill. This helped VAS to manage the huge influx of volunteers and increased demand from charities that was experienced early in the COVID-19 crisis.
The partnership came about after Louisa Harrison-Walker from the Sheffield Covid-19 Business Response Group connected Sheffield Digital and put us in touch with Paul Harvey from VAS. We want to give a special thanks to Andrew Morris who project-managed this after volunteering with Sheffield Digital to help as part of the COVID-19 response. His technical expertise made him an obvious candidate and his help proved invaluable.
The Moor Market moves online to bring fresh produce to local people
ChefChef.store is a collaboration between The Moor Market, Dave Healy (former organiser of Tramlines Festival), Sheffield City Council, ShopAppy (an online supermarket platform) and CityGrab, the delivery service from Sheffield's City Taxis.
Launched at the start of November, ChefChef.store is here to help local traders who are struggling due to the pandemic and to supply fresh produce to people in Sheffield.
ChefChef.store uses the ShopAppy platform to host around 25 independent traders based at The Moor Market. Shoppers can browse and select products online from one or more stores, before selecting home delivery using the CityGrab service.
Currently, goods are available for next day delivery when ordered before midday and there will soon be an 'express delivery' option, whereby shoppers can have products delivered in as little as an hour's time.
The team behind ChefChef.store is also exploring innovative ways of using the platform to connect the Market's traders with local people. This includes listing 'ready meals' and portioned sets of ingredients (similar to Hello Fresh), all sourced from the Market and delivered directly to people's doors. You can find out more about ChefChef.store here and you can see what's on offer by following them on Instagram.
Tended helps to create a safer, socially-distanced workspace
Tended creates wearable technology to support safer workplaces. In response to COVID-19, the company – which took part in Barnsley DMC's IoT Tribe accelerator programme – created a solution that helps workers keep a set distance between them.
Wrist bands are worn by individuals in the workplace and these will vibrate to alert workers when they are too close to others. All distance breaches are logged in an online dashboard, enabling employers to monitor how many times distances are breached and for how long. This supports contact tracing, meaning that if one person tests positive for COVID-19, there is a record of which team members they have been in contact with for the two weeks prior to their diagnosis, helping companies to prevent further spread of the disease. You can find out more about Tended's social distancing solution here.
MeetupCall keeps businesses connected
Doncaster based MeetupCall has provided conference call services since 2009. The company developed its services in response to the huge surge in demand for video conferencing during the first lockdown. MeetupCall now offers a video conferencing solution that can be branded to suit each customer's corporate identity, and also offers a 'virtual receptionist' service, with 24/7 support to assist with any issues in accessing a meeting.
Events organisers can add Meetupcall to the guest list of a pre-planned event so that it can send personalised invitations to all guests (up to 200 at a time). The platform can also call all meeting guests when an event is due to start, to reduce the number of missed meetings and time spent waiting for latecomers.
Features like this, the 24/7 support function and flexible joining options – enabling meeting guests to join using video, or to dial in on a phone – are designed in response to the 'new way of working' that COVID-19 has presented, now that many businesses cannot meet face to face with colleagues or clients. Find out more.
Natterhub keeps kids and teachers talking
The founders of a new safe and educational social media platform – Natterhub – adapted their business and launched it early, making the platform available for free to help children stay safe online during school closures.
Natterhub is a learning platform and framework created for teachers to share with pupils, helping to develop children's understanding of the internet and online safety.
It was due for launch in May 2020, ready for use when online safety became a compulsory subject in the National Curriculum in September. The team adapted the platform and launched it a month early so that it could be used during lockdown whilst many children were using the internet more.
Caroline Allams, Co-Founder and CCO of Natterhub and a former Assistant Headteacher, said at the time of launching: "We know that the internet is a really vital tool for everyone at the moment and a way for children to stay connected to the world and each other.
"We don't want people to be afraid to use the internet, but we do want them to have a safe space to learn so that they can thrive online. It is not enough for children just to be safe, they need to know how to navigate their online lives and be aware, savvy, and sceptical about what they read."
Natterhub is part of the business accelerator TwinklHive, from EdTech company Twinkl. You can read more about it here.
Virtual Ticket Bank helps vulnerable people avoid isolation
The Ticket Bank provides an on-line platform for the distribution of spare and unsold event tickets. Before COVID-19 and the resulting imposed social distancing, The Ticket Bank helped people in need across society to attend events in the UK with no cost to the individual.
Following the postponement of all events involving physical gatherings, they partnered with Tickets for Good to develop a Virtual Ticket Bank. This new concept aims to continue supporting their network of over 500 charities with a total of more than 100,000 service users, who face an even greater risk of isolation. Find out more about how it works here.
Have you created a new product or platform in response to the pandemic? Has your business pivoted or diversified to help you and your customers adapt to the current ways of living and working? Please email claire@sheffield.digital for your example to be considered as an addition to this post.