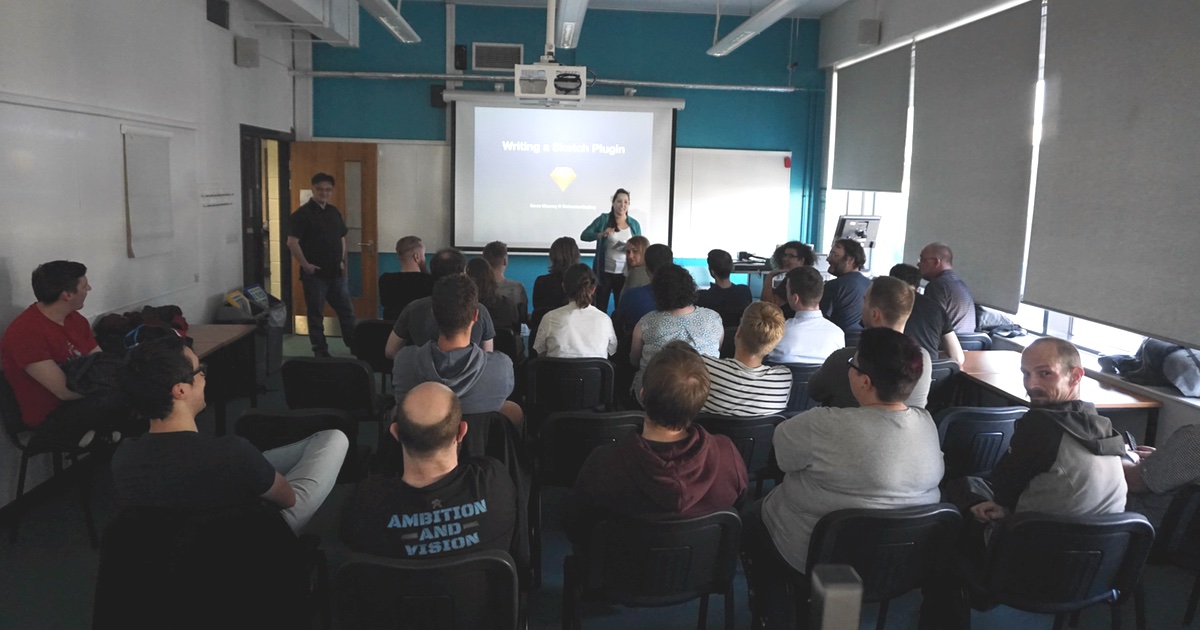 Sheffield's thriving tech meetup scene gained a new regular event earlier this year in the shape of Front End Sheffield. Organised by Amy Benson, Laura Kishimoto, Katie Fenn, Ian Parr and JP Archer, it's for anyone working or interested in front-end development and all that goes with it.
With three successful events under their belt, we spoke to the Front End Sheffield team to learn more about how it all got started and how they think it's going.
What made you want to start a front-end meetup?
We were embarrassed that we had to go to Leeds or Manchester for a front-end meetup when there are so many agencies and companies working on the web in Sheffield.
A few years ago, some of us were involved in an earlier version called 'Crayon Monkeys' that never really got off the ground. But we always felt it was something that would be useful to us and other front-end developers.
We were involved in Sheffield JS but wanted somewhere to talk about CSS and other front-end topics as well. When Ian and JP showed an interest in helping organise it, we gave it another go – more successfully this time!
Absolutely – so how is the meetup going so far?
Great! We've sold out each event and the quality of the speakers has been good. We've attracted some people who have never been to an event like this before, which feels nice.
It's great to connect with other people in the industry and from across Sheffield's many great digital companies. We've also had freelancers and university students attend, and that's fantastic.
What have you done to get the meetup off the ground?
Promotion has been through word-of-mouth and Twitter. There has been lots of work to get venues and speakers sorted and we've shared that out between our organisers. That meant battling with Meetup.com in the midst of a confusing design refresh!
The Sheffield Digital Slack community has also been really useful – we use it for organising and promoting the meetup.
Do you go to other meetups? Any best bits you wanted to 'borrow'?
Us organisers have been to many meetups, such as Sheffield JS, UX Sheffield, WordPress Sheffield, and Sheffield PHP. We are quite fond of after-meetup drinks.
Have you done anything to make the meetup unique or stand out?
Well, we're the only dedicated front-end meetup in Sheffield! And there is certainly an appetite for discussion around a broad range of front-end issues.
We've found that organising a meeting every two months has worked better for the Sheffield audience. The departure from the traditional monthly format means we can regularly hold events with multiple talks, which makes them more appealing.
How have you approached a code of conduct?
The organisers feel quite strongly about a clear code of conduct and take issues like inclusivity seriously. We use the freely available Conference Code of Conduct and have edited it to our event's needs.
What have been your biggest challenges so far?
Finding an appropriate (accessible… cheap!) venue that can grow with our ambitions for the event.
What can people do to help or get involved?
We're very keen to find speakers, especially those people who may not have spoken before. We'd like Front End Sheffield to be a place where such people are welcome.
How the heck should we write 'Front End' (front-end)?
Industry secret: no one knows.
Find out more about Front End Sheffield
Thanks to the Front End Sheffield team for taking the time to answer our questions. You can follow them on Twitter or find the #frontend channel in the Sheffield Digital Slack community. And if you fancy popping along to the next meetup, pop Thursday 26th July in your diary.