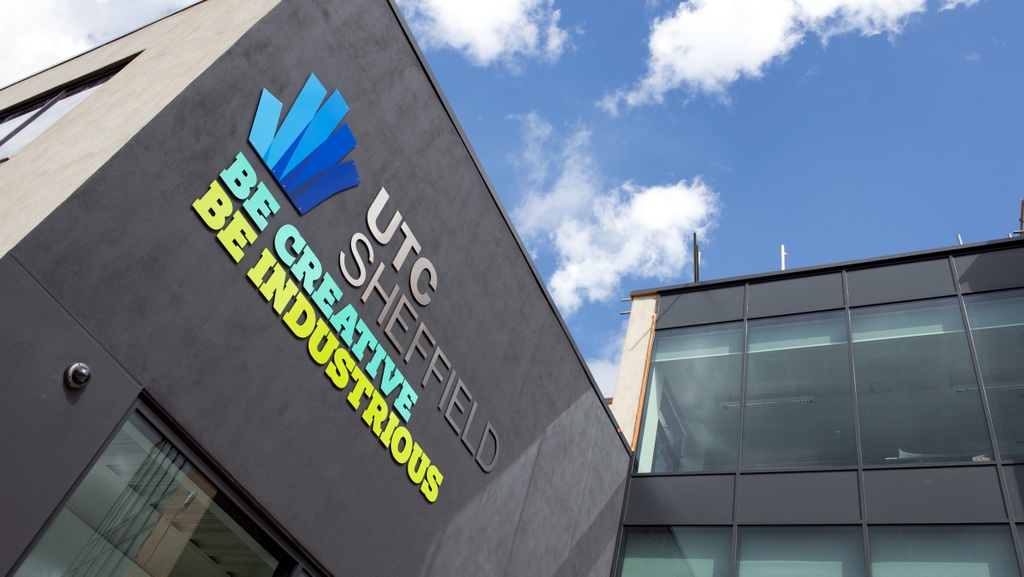 UTC Sheffield City Centre was the first UTC to open in Yorkshire and Humber, in September 2013. All students complete a technical qualification in one of two industry specialisms, either Engineering & Advanced Manufacturing or Creative & Digital Media, in addition to GCSEs and A Levels.
Our students develop good industry skills on highly effective study programmes, which increase their chances of securing employment and apprenticeships in the region and beyond.
Students mention that the atmosphere at the UTC is purposeful and focused, but also friendly and vibrant. Students come to us because they want to learn and relish the opportunity to concentrate on their studies alongside others with similar interests – whilst enjoying an extensive programme of personal and social development.
Students in Year 10 and Year 12 study technical qualifications in Digital Media that relate directly to the skills that employers need. As part of that, the UTC offers something special in terms of embedded engagement from employers. Our curriculum is built around employability skills in the Digital Media industries, from film, TV and radio production to graphic design and web authoring. While we teach these in order to pass an academic course, we are keen for employers to engage with us and give students a live project to work on that forms part of the qualification and extends their learning.
Here are some of the current curriculum areas that we would like to develop:
Year 10 (14 -15 year olds)
Interactive Media
2D and 3D Animation
Photography
Graphic design
Year 11 (15 – 16 year olds)
Web Design
Music video production
Games production
App development
Year 12 (16-17 year olds)
Journalism
Cross platform marketing
Documentary production
Short film production
Advertising
Special effects
Web authoring
Year 13 (17-18 Year Olds)
Radio production
TV production
Social media and interactive marketing
Games production
Web authoring
3D Animation
Sound for media production (music technology)
Projects generally involve three stages:
Client Brief Session – for you to deliver the brief and allow students to capture requirements
Design Session – students present to you their Requirements Analysis and Designs
Completion/Acceptance testing – students present back their product and their testing for acceptance/feedback.
Visits
We are keen to get students into the workplace to see exactly how the industry works. Trips can be anything from a one hour tour to a full day with interactivity with staff/sessions presented and this is entirely flexible. If you think you can offer any of these please let us know so we can discuss how this fits with curriculum.
Employer Mentoring
Three times a year we have an 'employer mentor day' where employers will discuss with a small group of students their aspirations, qualifications, employment prospects or anything else that will help students understand about the industry. Generally speaking we allow students to suggest employer mentoring of specific groups down to interests:
2D and 3D Animation
Web authoring and digital design
Film and TV production
Radio production
Social media management
Advertising, PR and marketing
Games production
Mentoring is a great way to see what students are doing and guide them on the right pathways to becoming great industry professionals, current employer mentors find it very rewarding. Our next mentoring days are:
Student Showcases:
Employers are always very welcome to visit us to see our Student Showcases. Our next dates are:
Wednesday 3 October 2018, 5.00-7.00pm – Y9 Showcase
Wednesday 14 November 2018, 5.00-7.00pm – Y12 Showcase
Wednesday 16 January 2019, 5.00-7.00pm – Y9/Y12 Showcase
Wednesday 6 March 2019, 5.00-7.00pm – Post 16 Options evening
Wednesday 20 March 2019, 5.00-7.00pm – Y9 Options evening
Wednesday 12 June 2019, 5.00-7.00pm – Y9/Y12 – Final Showcase
Working with us:
In the first instance, you can contact:
Julie Wain (the Principal's PA)
Victoria Allen (Curriculum Director of Creative and Digital Media)
Find out more about Creative and Media at the City Centre UTC.