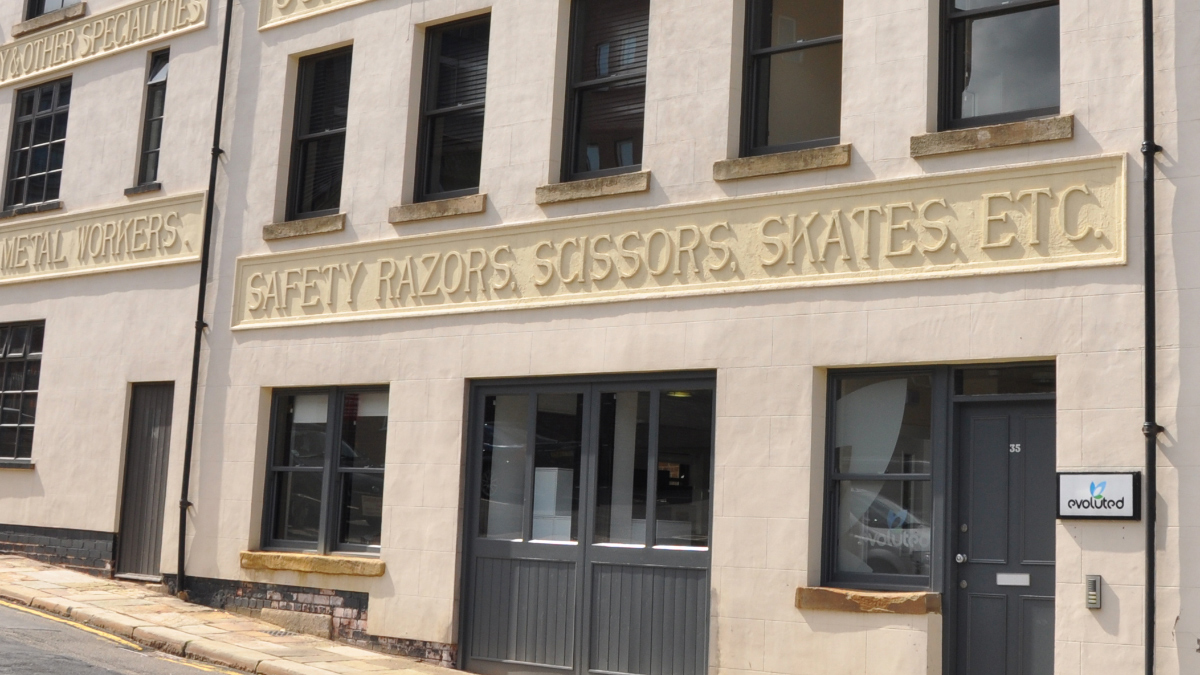 Evoluted is a company that actually conforms to the stereotypical tech business story. Managing director Ash Young started making websites while he was at Sheffield University studying software engineering. He set up Evoluted as soon as he graduated in 2006 and the company began with Ash and colleague Gareth Davies working out of a bedroom.
Since then, Evoluted has grown steadily and in March this year acquired another agency, Reflow Studio, who were based in Hathersage. Evoluted now numbers 25 people and expects to turn over £1.25m this year.
From their first office in Chesterfield, Evoluted moved to Sheffield in 2009 to offices in a Grade II listed cutlery works. When Ash heard that there were plans to turn the building into student apartments, he decided to buy the whole building and refurbish it. The Evoluted team now work in customised modern surroundings within restored 18th century splendour.
"We've changed massively over the past ten years," says Ash. "In the beginning, we were very focussed on programming and didn't really do much digital marketing or design. Over time, we've seen digital marketing and usability become much more important and we've responded to that. It's not enough just to be online any more, people have to be promoting themselves in the right way and this is where we aim to help."
Evoluted's clients range from start-ups to well-known brands, across a wide range of sectors. They've won a number of awards, including Retail Campaign/Strategy of the Year in the 2016 Drum Network Awards. A recent success story has been their work for Peak Indicators, one of the most recognised providers of business intelligence and analytics services in Europe. Since the start of 2017, Evoluted have built the client a new website and also taken over all of their digital marketing activities. From January to May, this work has seen Peak Indicators' organic website traffic grow by 61% in comparison to the previous year. Ash hopes to see the agency grow to 35-40 people so that they can expand their client base even further.
"The digital scene in Sheffield has certainly improved in recent years and it's nice to see digital being taken seriously", he comments. "But more needs to be done to help small businesses understand that there's more to digital than social media. How does a business owner find out about digital from a trusted, independent adviser? Google Garage is good, and we've also got the new vouchers scheme from Superfast South Yorkshire, but there needs to be more."
On the perennial question of recruitment, Ash is finding that a proactive approach pays off. "We're finding that recruitment is OK but we work hard to have a good presence and a good offer. It takes time to find the right person – it took about four months to fill a project manager role and even then we ended up taking someone with transferable skills rather than directly relevant experience. A lot of our team have come from one of Sheffield's universities and we now have a strategy of recruiting at least one graduate and one placement student every year. Granted, what they study is out of date and has no bearing on what we do, but the trick is to find the right person and start them off on non-client work until they are up to speed."