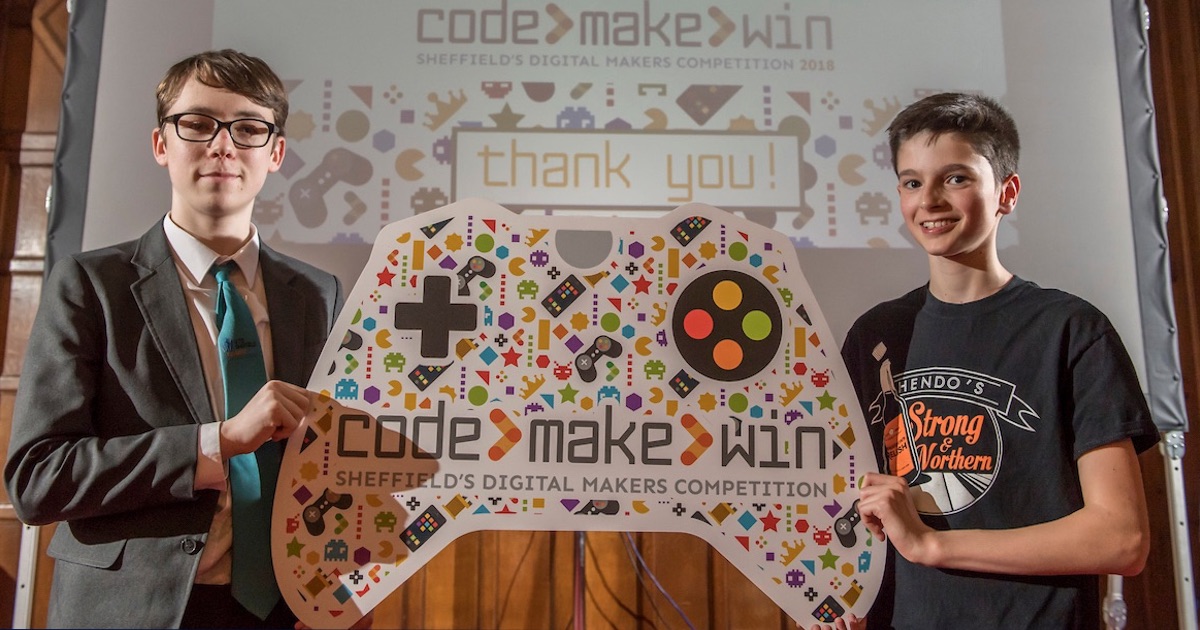 The Code>Make>Win competition is a celebration of Sheffield's young coders. It's great to see our city's businesses, many from the Sheffield Digital community, getting involved and supporting the next generation of talent. Read on to get an overview of the winners and the businesses involved in this year's competition.
Two young coders from Sheffield have been recognised for their game development skills in the city's CODE>MAKE>WIN 2018 competition. Jack Underwood and Edward Waller fought off tough competition to be awarded first prize in games design for the age 14–16 and 10–13 categories respectively.
Jack Underwood, aged 15, who is a student at UTC Sheffield Olympic Legacy Park, blew the judges away with his virtual reality game 'Age of Darkness'. Edward Waller, aged 12, from Bradfield Secondary School, impressed the judges with a game featuring the iconic Sheffield sauce Henderson's Relish called 'Hendo's Helps'.
The competition
The annual competition for young coders, which is supported by Sheffield City Council and local employers from our sector, is now in its third year. It attracted ideas for games and apps as well as coded products, generating 11 winners across all categories.
The competition culminated in an awards ceremony at Sheffield Town Hall on Wednesday 24 October. The audience included a number of young people from across Europe visiting Sheffield for a three-day 'Make Learn Share Europe' digital skills event, collaborating with students from Sheffield schools.
"Moving from consumption to creativity"
Keynote presenter at the awards was Ian Livingstone CBE, the founder of Games Workshop and Non-executive Director of Sumo Group PLC. Ian is one of the biggest names in the UK games industry and spoke passionately about the value of games to society, with over 2.2 billion people world-wide using games not just for fun but for learning.
He said: "Parents in particular need to understand that the UK games industry is worth over £1.5 billion to GDP and offers great job opportunities in software engineering, design and digital animation which are highly paid and highly skilled."
He added: "Games are a brilliant combination of storytelling with art, technology, science, and creativity. It's actually very difficult to make a game, so we need to make sure that children learn to code at a very early age and to understand that it's not just about making boring databases for banks but it's about making really brilliant creative content for us all to enjoy."
He concluded by addressing the young people in the audience: "You are the digital entrepreneurs of the future. It's great that you're moving from consumption to creativity. If you have an entrepreneurial mindset, have your digital making skills, understand that failure is not a problem, it's just part of the learning process, you can succeed and move from being a job seeker to being a job maker. I wish you all the best on your journeys."
Support from local tech businesses
The CODE>MAKE>WIN winners were awarded cash prizes as well as a collection of tech gifts from Pimoroni. All winners will also have the opportunity to visit and tour Sumo Digital. The winner of the apps category, Jude Smith from High Storrs School, will also be offered a work experience placement with 3Squared.
CODE>MAKE>WIN was funded by Sheffield City Council and run by Sheffield-based specialist Sero Skills. Judging was undertaken by a team from Steel Minions, Sheffield Hallam University's commercial games design studio, including Dr Jacob Habgood, Senior Lecturer in Software Engineering, Graphics and Multimedia who co-leads Steel Minions.
Rob Walker, European and Strategic Projects Manager, Sheffield City Council, said: "CODE>MAKE>WIN is a fantastic opportunity for young people across Sheffield to show off their coding skills. We know that lots of young people have an interest and a real talent for computing and coding. This competition lets them showcase their creativity and skills, giving them both recognition and support. This competition has huge potential."
Prizes were also awarded to the following categories
Game Idea (10-13):
George Waller, 'Ultimate Crabbing'.
Joseph Bradley, 'World2War'.
Game Idea (14-16):
Dylan Scott, 'The Milkman of the Apocalypse'.
Erin Banner, 'Familiar Escape'.
App Idea (14-16)
Game Design (10-13):
Lucas Dymond, 'Stone Dead'
Game Design (14-16):
Daniel Turner, 'Panda Soup'
Olmo Combley and Oscar Topliss, 'The Split'